ECLIPSE MAGNETICS Ltd
With the a rich history dating back to 1889, Eclipse Magnetics is a pioneer in applying magnetic technology to the challenges of industry. They invented the now world famous "Red" range of magnets and pot magnets already in the late 1940's. Since then the range has extended to include a large variety of magnetic tools.
Their magnetic technology is applied in numerous sectors including Automotive Manufacturing, Aerospace, Food Processing, Precision Engineering, Pharmaceutical Processing, Oil & Gas, Steel and OEM Automation projects. Magnetic technology can improve your business by reducing costs, increasing operational efficiency and improving safety.
Would you like to learn more about the magnetic systems offered by Eclipse Magnetics?
Please call or contact us by email.
Available in: Estonia, Latvia, Lithuania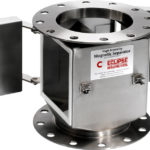 Products
Magnetic Filtration
View product
Magnetic Lifting & Handling Systems
View product
Magnetic Workholding Chucks
View product
Stock Magnets & Tools
View product
Magnetic Separation & Detection
View product