Wuxi Cast GmbH
The Wuxi Cast Foundry, or "WCF" for short, is a German company that operates with steel, grey, and nodular cast iron. Their core competence is in heat-resistant stainless-steel casting. Today, WCF is one of the market leaders in the field of design and delivery of charging equipment for heat treatment. They also manufacture spare parts for all common heat treatment furnaces.
The company was originally founded in China in 1996, but the founder Mr. Weijje Zhu moved the operations to Germany. To ensure success, he built a team of highly experienced German and European foundry professionals. The combination of automation and technically skilled employees produces reliable top quality products.
Wuxi Cast is devoted to castings and helping solve any challenges a customer might face. They provide products and services to the hardening industry, industrial furnace engineering, mechanical and plant engineering, power plant-, steel mill-, and cement industry.
Would you like to learn more about the products offered by Wuxi Cast?
Please call or contact us by email.
Available in: Finland , Sweden , Denmark , Norway , Estonia , Latvia , Lithuania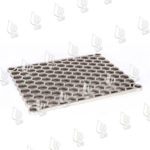 Products
Steelmill Industry Castings
View product
Cement Industry Castings
View product
Hardening Industry Castings
View product
Industrial Furnace Engineering Castings
View product
Power Plant Industry Castings
View product