Labtech Engineering Co. Ltd
The story of Labtech Engineering starts in 1983 with just a few production staff producing two roll mills, presses and mixers. Today, they have close to 300 employees producing over 600 machines per year. 
Labtech Engineering is one of the world's largest producers of laboratory and pilot plant polymer processing machines. They manufacture two roll mills, hydraulic presses, extruders, film blowing lines, filter testers, pelletizing systems and filament lines. These machines can be used in for example small scale production, product development and quality control. Labtech Engineering's machines are possible to scale up to bigger sizes to use in factory production lines as well. 
Would you like to learn more about the machines offered by Labtech Engineering?
Please call or contact us by email.
Available in: Finland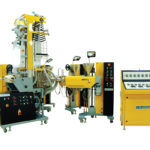 Products
Multilayer Film Blowing Lines
View product
Twin Screw Extruder
View product
Ultra Micro Lines
View product
Two-Roll Polymer & Rubber Mills
View product
3D Printer filament lines
View product
Hydraulic Presses
View product
News
September 29, 2022
Waldec at K 2022!
Read more